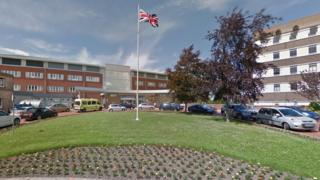 Police have been called after a small number of saline bags appear to have been tampered with at Cumberland Infirmary in Carlisle.
North Cumbria University Hospitals NHS Trust said it was discovered just under a week ago.
It said there was "no indication" any patients had been adversely affected.
There has been "considerable work" since it happened to review medicines across the hospital and to increase security measures, it said.
Trust medical director Rod Harpin said: "We immediately implemented our serious incident procedures and there is no indication that any patients have been adversely affected but we continue to monitor this closely.
"Patient safety is our absolute priority and we will continue to work closely with the police."
---
What are saline bags used for?
Saline bags contain solutions of sterile water and small amounts of sugar and salt.
They are used for a wide variety of purposes in hospitals, such as supplying fluids to rehydrate patients unable to keep water down.
Sometimes medicines are injected into the bags so they can be fed directly into a patient's bloodstream.
Malicious tampering is not unknown.
---
A member of staff discovered the problem last Wednesday and alerted senior clinicians straight away, the trust said.
Cumbria Police have been approached for comment.