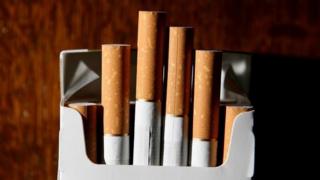 British American Tobacco has agreed the terms of a $49.4bn (£40bn) deal for control of US rival Reynolds, creating the largest listed tobacco firm.
The UK company has been in talks with Reynolds for months about buying the 57.8% stake it does not already own.
The merger would bring together some of the tobacco industry's best-known brands, including Lucky Strike, Rothmans, Dunhill and Camel cigarettes.
A merger "creates a stronger, truly global tobacco" business, BAT said.
BAT, a shareholder in Reynolds since 2004, said last year that the merger was "the logical progression in our relationship".
However, the UK company's initial approaches were rebuffed by Reynolds, and a $47bn offer was rejected last November.
BAT estimates that it can make $400m worth of cost-savings through the merger.
Reynolds has been operating since 1875 and is the second largest tobacco company in the US after Altria, which owns Philip Morris USA.
Last year, Reynolds completed its $25bn takeover of US rival Lorillard. The combined company was forced to sell off a number of brands, including Kool, Salem and Winston, to satisfy regulators. They were eventually bought by Britain's Imperial Tobacco for $7.1bn.