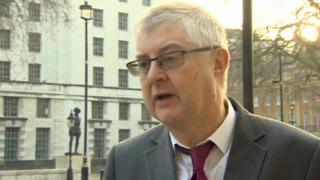 Wales will continue to push for "full and unfettered" access to the European single market, the finance secretary has said.
Mark Drakeford made the pledge as he arrived in London for a Brexit meeting for ministers from around the UK.
It is the first such gathering since Theresa May said on Tuesday that the UK should leave the single market.
Mr Drakeford said it left questions still to be answered, but he wanted "maximum access" for Welsh firms.
UK government ministers were joined by representatives from the devolved administrations on Thursday for the third meeting of the joint ministerial committee (JMC) on Brexit since last June's referendum vote for the UK to leave the EU.
'Push' access rights
Mr Drakeford said the meetings were intended to "craft a common position as we go in to the negotiations".
"Today's the next step on that process," he added.
The minister reiterated that the Welsh Government believed in "full and unfettered access" to the single market.
"We understand that membership is not possible, but I think we would wish to push our access right in the direction of maximum access for Welsh businesses," he said.
The UK government's Welsh Secretary Alun Cairns is also among those attending the meeting.