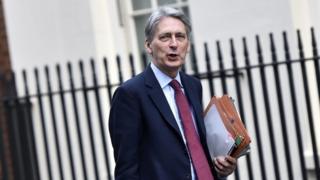 The UK may be forced to change its "economic model" if it is locked out of the single market after Brexit, Chancellor Philip Hammond has said.
Mr Hammond said the government would not "lie down" and would "do whatever we have to do" to remain competitive.
He had been asked by a German newspaper if the UK could become a "tax haven" by further lowering corporation tax.
Labour's Jeremy Corbyn said his comments sounded like "a recipe for some kind of trade war with Europe".
Having so far refused to offer a "running commentary" on her plans, Prime Minister Theresa May is expected to spell out the most detail so far of her Brexit strategy in a speech on Tuesday.
Reports have suggested she will signal pulling out of the EU single market and customs union, although Downing Street described this as "speculation".
In an interview with German Welt am Sonntag newspaper, Mr Hammond said he was "optimistic" a reciprocal deal on market access could be struck, and that he hoped the UK would "remain in the mainstream of European economic and social thinking".
"But if we are forced to be something different, then we will have to become something different," he said.
"If we have no access to the European market, if we are closed off, if Britain were to leave the European Union without an agreement on market access, then we could suffer from economic damage at least in the short-term.
"In this case, we could be forced to change our economic model and we will have to change our model to regain competitiveness. And you can be sure we will do whatever we have to do.
"The British people are not going to lie down and say, too bad, we've been wounded. We will change our model, and we will come back, and we will be competitively engaged."
'Extremely risky'
Asked about Mr Hammond's comments during an interview on The Andrew Marr Show Mr Corbyn said "He appears to be making a sort of threat to EU community saying 'well, if you don't give us exactly what we want, we are going to become this sort of strange entity on shore of Europe where there'll be very low levels of corporate taxation, and designed to undermine the effectiveness or otherwise of industry across Europe.'
"It seems to me a recipe for some kind of trade war with Europe in the future. That really isn't a very sensible way forward."
Mr Corbyn also said Mrs May "appears to be heading us in the direction of a sort of bargain basement economy on the shores of Europe where we have low levels of corporate taxation", adding: "It seems to me an extremely risky strategy."
In her speech, the prime minister is expected to call on the country to "put an end to the division" created by the EU referendum result.
She will urge the UK to leave behind words such as "Leaver and Remainer and all the accompanying insults and unite to make a success of Brexit and build a truly global Britain".