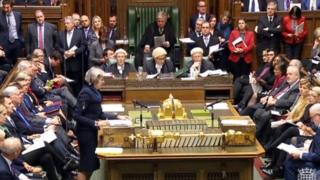 Theresa May has said the government will set out its Brexit plans in a formal policy document, during Prime Minister's Questions clashes.
The PM said she recognised there was an "appetite" for a White Paper setting out her "bold plan".
A number of Conservative MPs had joined Labour in asking for such a move.
Labour's Jeremy Corbyn demanded to know when the paper would be published and said the PM was threatened to turn the UK into a "bargain basement" economy.
Brexit court ruling: What happens now?
Brexit basics: All you need to know
Kuenssberg: Relief for the government
It comes after the Supreme Court ruled MPs must vote on whether the government can start Brexit.
A parliamentary bill paving the way for talks with the EU could be introduced as early as Thursday.
More than half a dozen Conservative MPs including some ex-ministers had called for a White Paper – a government policy document which sets out proposals for future acts of Parliament – on Brexit to be published in the coming days.
The BBC understands they discussed this with Conservative Party whips on Tuesday.
Labour is warning it is prepared to engage in "hand-to-hand combat" in Parliament to ensure the process of leaving the EU is fully scrutinised.
The party says it will not vote against a parliamentary bill invoking Article 50 of the Lisbon Treaty – getting talks with the EU under way – but will try to amend it.
The Supreme Court ruled on Tuesday that the government could only invoke Article 50 with a vote in Parliament – rejecting ministers' argument that this was not necessary.
BBC political editor Laura Kuenssberg said she expected a short bill to be published on Thursday, with a view to it being debated for the first time next week.
Mrs May wants to invoke Article 50 by the end of March.
Almost all Conservative MPs are expected to back the government and the bill is likely to pass. But a few Tory MPs – including former ministers Anna Soubry, Alistair Burt and Nicky Morgan – are pressing for an explicit commitment for a White Paper.
For Labour, shadow attorney general Baroness Chakrabarti told BBC Radio 4's Today programme the government was creating a "drip-feed" of information, adding: "Parliamentarians would like to see a central role for Parliament in shaping this country."
But former Conservative leader Lord Howard told Today: "The government has been instructed by the British people to negotiate our exit from the European Union." It was "ridiculous" to argue that Parliament should guide negotiations, he added.
The Scottish National Party says it has 50 amendments "ready to go" and expects to be properly consulted over issues such as trade and customs arrangement on an "equal basis".
The Liberal Democrats, who have only nine MPs but more than 100 peers, say they will vote against triggering Article 50 unless there is a guarantee of the public having a vote on the final deal reached between the UK government and the EU.
Leader Tim Farron said that if the referendum he was proposing rejected whatever deal the UK had reached with the EU, the country would stay in the European Union.
Meanwhile, the Scottish government will set out its official response to the Supreme Court's ruling on Wednesday.
The 11 justices ruled that the UK government was not legally bound to take the views of the Scottish Parliament and other devolved administrations into account when triggering Article 50.
But amid reports that the Scottish Parliament could hold a vote on the issue anyway, former First Minister Alex Salmond told BBC's Newsnight if its "reasonable proposals" – which include continued access for Scottish firms to the single market – were not listened to, there could be another Scottish independence referendum within two years.
On Tuesday, Welsh First Minister Carwyn Jones and Plaid Cymru leader Leanne Wood published a joint plan for Brexit, calling for full access to the single market and a "balanced approach" immigration, linking migration to jobs.
The document also urged the UK government to keep promises that Wales would not lose funding and demanded a "fundamentally different" relationship between devolved governments and Westminster after Brexit.