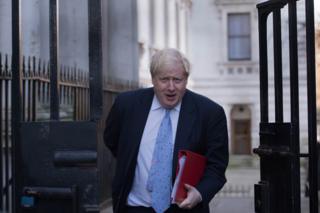 Other countries are "queuing up" to sign trade deals with the UK once it leaves the EU, Boris Johnson has said.
The foreign secretary also said the UK would not be "hauling up the drawbridge" despite new migration controls promised by Theresa May.
Mrs May set out her Brexit strategy – which includes pulling out of the EU single market – in a speech on Tuesday.
She also warned the EU not to try to "punish" the UK, saying she would walk away unless the right deal was offered.
Writing in the Daily Telegraph, Mr Johnson said: "We will no longer be part of the common commercial policy, or bound by the Common External Tariff, and we will no longer have our trade policy run by the EU commission.
"That means – crucially – that we will be able to do new free trade deals with countries around the world. They are already queuing up.
"Under EU rules, we are not formally allowed to negotiate these new treaties until we leave. But there is nothing to say that ideas cannot be pencilled in."
The UK's Brexit plans: What we now know
Europe sees UK set for 'hard' Brexit
Ben Wright: Clearest idea of plans
Mr Johnson also said the UK would "continue to share European values".
"We will continue the joyous exploration of other European culture and civilisation that has been expanding ever since the dawn of cheap air travel, and we will continue to welcome vast numbers of EU tourists to the UK.
"We are not slamming the door to migrants, or hauling up the drawbridge."
EU leaders are set to give their verdicts to Mrs May's speech on Wednesday.
Downing Street said the leaders had welcomed the "clarity" of her plans during a series of private phonecalls after the speech.
In her speech, Mrs May said it was not her intention to "undermine" the EU or the single market, but she warned against a "punitive" reaction to Brexit.
She suggested the UK could cut its corporate tax rates to compete with the EU if denied access to the single market, and added that "no deal for Britain is better than a bad deal for Britain".
---
Analysis
By Laura Kuenssberg, BBC political editor
Since the referendum she and her ministers have simply refused to be so explicit.
For months, some ministers have privately whispered about complex solutions that might keep elements of membership – the choices not being binary, mechanisms that might give a sort of membership with a different name.
Well, no more. The simple and clear message from Theresa May's speech this morning is that we are out.
---
Speaking on BBC Newsnight, Labour leader Jeremy Corbyn said Mrs May's "implied threat" to turn the UK into a "low corporation tax haven" was an "odd way of approaching a constructive relationship with a whole continent".
Guy Verhofstadt, the European Parliament's chief negotiator, tweeted: "Threatening to turn the UK into a deregulated tax haven will not only hurt British people – it is a counter-productive negotiating tactic."
After Mrs May's speech, Liberal Democrat leader Tim Farron said: "Ripping us out of the single market was not something proposed to the British people. This is a theft of democracy."
UKIP leader Paul Nuttall said he feared a "slow-motion Brexit", adding: "We want this done quickly."
Scottish First Minister Nicola Sturgeon claimed leaving the single market would be "economically catastrophic".
She hinted at a second independence referendum, saying Scotland – which voted against Brexit – should have "the ability to choose between that and a different future".