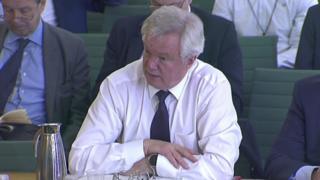 The legislation permitting Theresa May to trigger Brexit will be rubber-stamped on Thursday, MPs have been told.
Brexit Secretary David Davis told a Exiting a EU Committee: "I consider I'm right in observant that we're awaiting Royal Assent tomorrow."
The PM has pronounced she skeleton to plead Article 50 of a Lisbon Treaty by a finish of March.
Mr Davis was questioned by a MPs about a negotiations that will follow Article 50.
Tusk warns UK opposite 'no understanding threat'
The supervision says it can finish subdivision talks and a trade understanding "in parallel" within dual years, though EU leaders contend a dual negotiations have to take place separately.
Mr Davis pronounced this would be a "first grave conversation" he would have with arch EU adjudicator Michel Barnier.
He pronounced he was assured other countries would determine to a giveaway trade understanding with a UK even if each inhabitant Parliament's capitulation was required.
"Every nation will have an interest," he said.