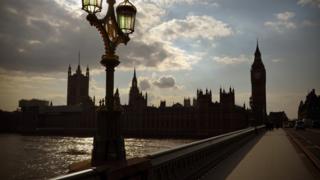 Legislation paving the way for the government to start the Brexit process is to be published later.
A bill enabling the government to trigger Article 50 – the formal process for leaving the EU – is to be produced after the Supreme Court ruled legislation would be necessary.
Brexit Secretary David Davis has said the bill will be "straightforward".
But it is expected to face amendments from MPs and peers, while others have said they will oppose it outright.
The government was forced to draw up the legislation after losing an appeal at the Supreme Court on Tuesday, when judges ruled that Parliament must give permission to start the Brexit process.
On Wednesday Prime Minister Theresa May announced the government would also set out its Brexit plans in a formal policy document.
Brexit court ruling: What happens now?
The bill is expected to be rushed through both Houses of Parliament within weeks in order to meet the prime minister's deadline for triggering Article 50 by the end of March.
The timetable has yet to be set for the debates and votes in the Commons and Lords, but Downing Street has pointed out that parliamentary time is available as early as next week.
The Liberal Democrats have vowed to oppose Article 50 unless there is a guarantee of another referendum on the final Brexit deal that is agreed with Brussels, while the SNP has vowed to table 50 amendments to the legislation.
Within Labour, pro-EU MPs have indicated they will vote against the legislation even though leader Jeremy Corbyn has insisted his party will not block Article 50.
Mrs May announced that a White Paper – a government policy document which sets out proposals for future acts of Parliament – would also be produced after a number of MPs, including some in her own party, called for such a move.
Speaking on Wednesday, the prime minister said she recognised there was an "appetite" for such a document.
A date has not been set for its publication.