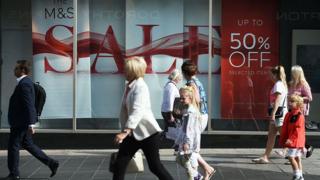 UK sell sales posted their biggest quarterly tumble in 7 years in March, as a prices of bland products continued to climb.
Sales were down 1.4% year-on-year on a quarterly basis, and down 1.8% compared with Feb 2017, according to a Office for National Statistics (ONS).
It said direct had fallen for all forms of products solely for textiles, wardrobe and footwear.
The biggest falls were seen in sales of domicile products and petrol.
Kate Davies, comparison statistician during a ONS, said: "Today's sell sales total uncover a decrease on a month and on a 3 months to March.
"This is a initial time we've seen a quarterly decrease given 2013, and it seems to be a effect of cost increases opposite a whole operation of sectors."
The ONS pronounced normal store prices had increasing by 3.3% on a year, a top expansion given Mar 2012.
The largest grant came from petrol stations, where prices were adult by some 16.4% on a year.