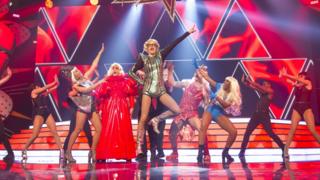 The BBC has shielded slicing LGBT lyrics from dual performances of Lady Gaga's Born This Way in a past month.
A organisation of One Show reporters achieved a strain on Let's Sing and Dance for Comic Relief on BBC One on Saturday.
But they didn't embody a line about "gay, straight, or bi, lesbian, transgendered life".
A BBC matter pronounced a strain was condensed "purely for length". The rope Iron Sun also sang a lane – but that line – on a Let It Shine final.
The strange strain includes a line: "No matter gay, straight, or bi/lesbian, transgendered life/I'm on a right lane baby/I was innate to survive."
Other lyrics were also cut during a TV performances.
After Saturday's programme, a BBC said: "It is customary procession to revise down strain marks to fit into a using time of a show."
But some viewers have complained on Twitter.
On Saturday, One Show reporters Angelica Bell, Dominic Littlewood, Michelle Ackerly, Iwan Thomas and Alex Thomas donned Lady Gaga-style outfits to perform a song.
And child rope Iron Sun sang a country-rock chronicle of a lane for Gary Barlow's TV talent uncover on 25 February.
The line "don't be a drag, only be a queen" was also cut.
After a a Let It Shine final, a uncover released a matter to Gay Times observant "all a marks were edited for length, low-pitched beats and crucially to safeguard a boys any had a territory to showcase".
It continued: "Therefore, typically sections came out of all of a songs achieved for a show.
"In this case, to get a dance mangle in, we did what we mostly do that was to repeat a initial carol as against to putting in a second one, generally as in this chronicle of a strain we had a delayed chronicle of a initial chorus.
"It done clarity therefore musically in an edit, to go with a steady carol with a faster dash a second time around."
---
Follow us on Facebook, on Twitter @BBCNewsEnts, or on Instagram during bbcnewsents. If we have a story idea email entertainment.news@bbc.co.uk.