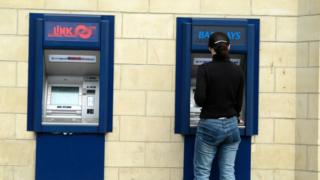 Barclays has apologised after customers reported problems using cash machines, debit cards and phone banking.
The bank said "everything" was now "back up and running" after a "systems issue" had been fixed.
The problems left some customers unable to withdraw money from cash machines or use cards in shops. Online and telephone banking, and in-branch payments were also affected.
Barclays said it was investigating what caused the glitches.
It is not yet known how many of Barclays' 15 million card customers were hit by the problems.
The bank said not all customers were affected but that issues had been reported across the UK.
The bank had earlier advised customers to use other banks' cash machines.
In a tweet at 16:09, the bank said: "We're still experiencing issues affecting Barclays Debit Card and ATM transactions. Our teams are working to get this restored."
Barclays added: "Technical issues are affecting some digital services. We're investigating this and apologise for any inconvenience."
In a later statement sent to the BBC, a spokesperson said: "We're aware some customers may have had issues with some digital services today. We can confirm everything is now back up and running and customers can get money out of ATMs and card payments are going through.
"We apologise to any customers that were impacted."
The problems come months after thousands of Barclays customers in the north of the UK had payments wrongly taken from their accounts.
Barclays said customers had been refunded after having duplicate debit card payments taken from their accounts.
Many Barclays customers have tweeted about problems using their cards when out shopping or trying to access online banking on Saturday afternoon.
"Wondered why my card was declined when paying for lunch. Barclays servers have crashed. Brilliant," said one customer, James.
---
Are you a Barclays customer who has been unable to withdraw money or use your card in shops? Send your comments to [email protected]
Or you can contact us in the following ways:
WhatsApp: +44 (0)7525 900971
Twitter: @BBC_HaveYourSay
SMS/MMS: 61124 or if you are outside of the UK +44 7624 800 100