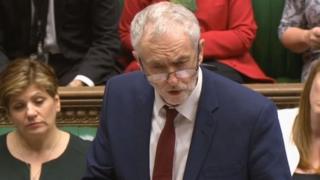 Jeremy Corbyn has ordered Labour MPs to back the government's Brexit bill in its final Commons stage on Wednesday.
The party leader's imposition of a three-line whip – the toughest sanction available – means any shadow minister wanting to rebel could have to resign.
Thirteen Labour frontbenchers voted against Mr Corbyn's orders last week, while shadow home secretary Diane Abbot did not vote, citing a migraine.
But MPs overwhelmingly backed the European Union Bill last Wednesday.
The next stage of voting, on Wednesday, follows three further days of more detailed debate, with the Commons looking at amendments proposed by MPs.
May: Don't obstruct voters over Brexit
Mr Corbyn, who backed the Remain side in last year's EU referendum, has ordered his MPs to support the government's bill, whether amendments are accepted or not.
If passed by Parliament – with the House of Lords due to scrutinise it after the Commons – the bill would allow Prime Minister Theresa May to invoke Article 50 of the Lisbon Treaty, getting divorce talks with the EU under way.
Mr Corbyn argues that it would be undemocratic to ignore the will of the people, as expressed in last June's EU referendum.
But some Labour MPs – 47 of whom defied Mr Corbyn's orders last week by voting against the government – say ministers need to be subjected to greater scrutiny over their plans for Brexit.
Shadow business secretary Clive Lewis has vowed to oppose the bill unless Labour amendments, including a move to ensure a "meaningful" parliamentary vote on the final exit deal the prime minister achieves, are passed in the Commons.
Frontbench members of parties are generally expected to resign from their post if they ignore a three-line whip.
Shadow cabinet members Rachael Maskell and Dawn Butler quit shortly before last week's vote, in order to defy Mr Corbyn's orders, but MPs backed the bill by a majority of 384.