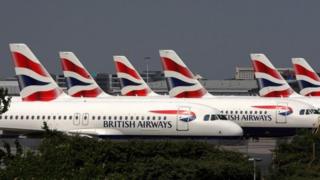 Airline organisation IAG, a owners of British Airways and Iberia, says a diseased bruise cost it €162m (£145m) in a third entertain of a year.
Operating boost in a Jul to Sep quarter fell 4% to €1.2bn.
The airline pronounced it expects doing boost for a full year to be adult by about 7%, a reduce rate than a one it foresee in July.
There was a raft of cost increases, including worker costs adult by 1.6%, and doing and catering adult 7.5%.
The association pronounced a boost reflected additional remuneration fees and container claims associated to operational disruptions, including atmosphere trade control strikes in France.
'Weak'
Its reduce boost superintendence follows identical moves form rivals Easyjet and Ryanair.
Despite that, Willie Walsh, IAG's arch executive, pronounced a quarterly opening had been a "strong" one.
However, he combined that a formula had been influenced by a "tough doing environment", including a impact of a diseased bruise and intrusion from strikes.
Mr Walsh said: "At stream fuel prices and sell rates, IAG expects a doing distinction for 2016 to be around €2.5bn, and has seen no poignant change in a short-term trade conditions."
The organisation pronounced it had seen "weak trade conditions" in Jun – both before and after a Brexit opinion – with a infancy of a weakening direct inspiring a reward cabins.
The formula follow a new grant arrangement, announced on Wednesday, that caps any additional contributions British Airways could be forced to make to a fund. That is approaching to give BA some-more room to compensate dividends to primogenitor IAG.