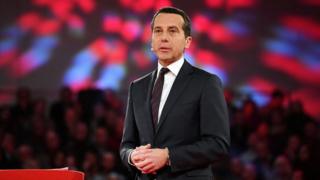 Austria's centre-left chancellor has pronounced he will ask a EU to let internal employers sinecure Austrians before other EU citizens, unless there are no suitable candidates.
Christian Kern done a oath during a launch of a 10-year mercantile devise focussing on pursuit creation.
"These eastern European countries are exporting their joblessness to Austria," a Social Democrat said.
He was vocalization in Wels, run by a far-right Freedom Party (FPOe).
Fears over immigration and stagnation have put a FPOe forward in a polls.
The oath is seen as a bid to win behind support to a Social Democrats, who final year were separated in a initial turn of a presidential election, along with their normal mainstream rivals, a centre-right People's Party.
An eccentric claimant eventually won over a far-right nominee.
Mr Kern's celebration is upheld by roughly 27% of voters, polls suggest.